(604) 227-6721

Previous clients include:
Playland Nights at The PNE, The Armstrong IPE, Cascades Casino, Edgewater Casino, MOSAIC, ONNI, Sears, Pret A Pour Nuit, The Osoyoos Arts Council, The Royal Vancouver Yacht Club, The Rio Theatre, The Biltmore Cabaret, S.P.A.C.E., IATSE and many more.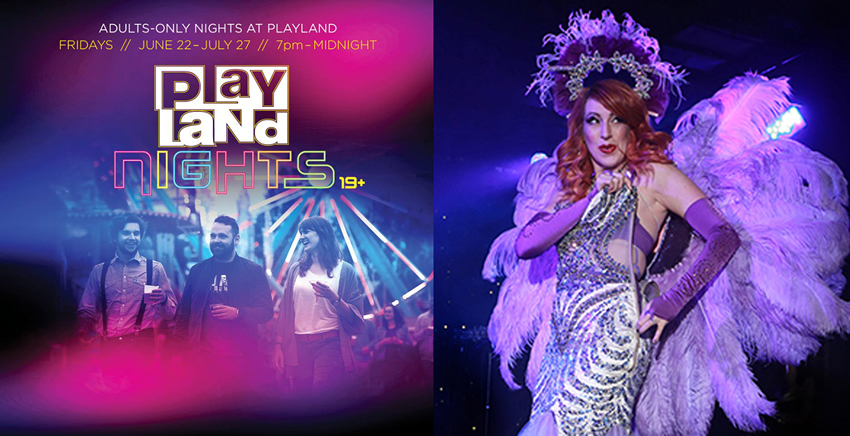 This summer we were thrilled to bring vintage burlesque glamour to PLAYLAND NIGHTS at The PNE!
Thanks to everyone who came out to the shows and shared the fun!

Updates and info on upcoming public events are always available
on our FACEBOOK PAGE
Producers:
Kyrst Hogan: A classically trained dancer singer and actress with a degree in Theatre Arts, Burgundy worked as a principal singer, dancer and actress in New York for over a decade in such productions as the world famous Radio City Christmas Spectacular, Norwegian Cruise Lines, as well as regional and off-broadway theatres and national touring companies. She also worked as a dance instructor for numerous studios in both Boston and New York, and has been successfully producing cabaret and theatrical events since 2006. As "Burgundy Brixx" she was dubbed "Vancouver's Reigning Burlesque Queen" by Vancouver Magazine, "A Dynamic Cabaret Chanteuse" by Canada's Globe and Mail and a "Burlesque Star" by The Georgia Straight. She also won the title of Best Soloist from the great Burlesque Expo of 2011. She is a sought-after performer and educator world-wide, headlining shows and festivals in Toronto, Minneapolis, Dallas, SanFrancisco and Las Vegas.
Doulas Thoms: A dynamic professional entertainer, singer and musician, Doug has performed in New York and across the globe with the percussion phenomenon, "STOMP!", and has been featured as a vocalist with the Trans-Siberian Orchestra. In Vancouver, he recieved the EV Young Award for his performance of Pontious Pilate in "Jesus Christ Superstar". at Theatre Under The Stars. The weekly host of Kitty Nights, Doug also produces Kitty Nights new series of live hard rock burlesque shows featuring his Hot & Heavy Band, resulting in sell-out crowds and critical acclaim. He has also hosted and performed in burlesque and theatrical shows at numerous New York and Vancouver area venues, including as headlining host for the 2013 Edmonton Burlesque Festival and The Great Burlesque Exposition in Boston as well as The Vancouver International Burlesque Festival. Doug continues to produce innovative modern rock theatre with his company, LIVESTAGE PERFORMANCE with such shows as as his acclaimed stage version of Pink Floyd's "The Wall" and original rock opera "Elektrafire" which was awarded 4 stars in "Time Out New York".